Būvinženieris
---
Salary(gross): 430 EUR monthly
Applying for the vacancy has ended
---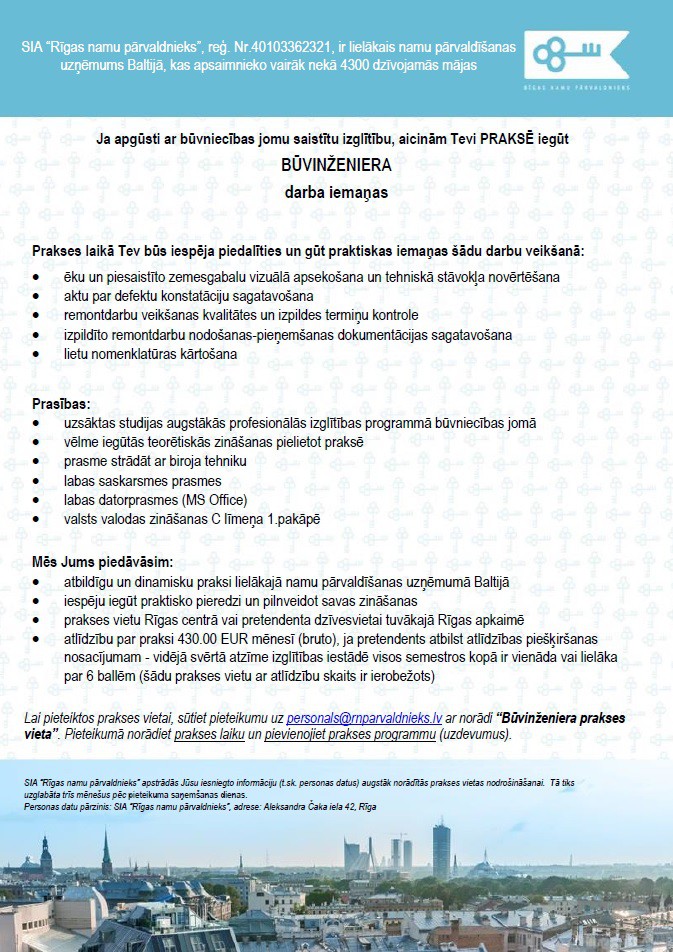 Description
Piedāvājam prakses vietu augstskolu studentiem, kuriem studiju ietvaros ir paredzēta mācību prakse.
Location
---
Vacancies you might be interested in
About the company

SIA "Rīgas namu pārvaldnieks" tika izveidota 2010. gada 29. decembrī, apvienojot pašvaldības 15 namu pārvaldes. Septiņi teritoriālie iecirkņi apsaimnieko vairāk nekā 4200 dzīvojamās mājas ar kopējo platību virs astoņiem miljoniem kvadrātmetru.

Viens no galvenajiem uzdevumiem – sniegt augstākās kvalitātes pakalpojumus ar zemākām iespējamajām izmaksām. Noteicoša loma ir ne tikai pilsētas dzīvojamā fonda uzturēšanai, bet arī tā attīstīšanai, t.i., renovācijas darbu veikšanai, māju kalpošanas laika pagarināšanai, jo sakoptas dzīvojamās mājas ir ne tikai komfortabli sadzīves apstākļi iedzīvotājiem, bet arī pievilcīga pilsētas seja!

Būtiskus rezultātus mēs varam sasniegt tikai vienoti un saskaņoti strādājot profesionālajā komandā, kuru veido tehniskās, juridiskās un ekonomiskās jomas speciālisti ar augstāko izglītību.
Virtual internships at Rīgas namu pārvaldnieks