Apollo SKYPARK - Maiņas Vadītājs!
---
Salary(gross): from 1 to 1200 EUR monthly
Applying for the vacancy has ended
---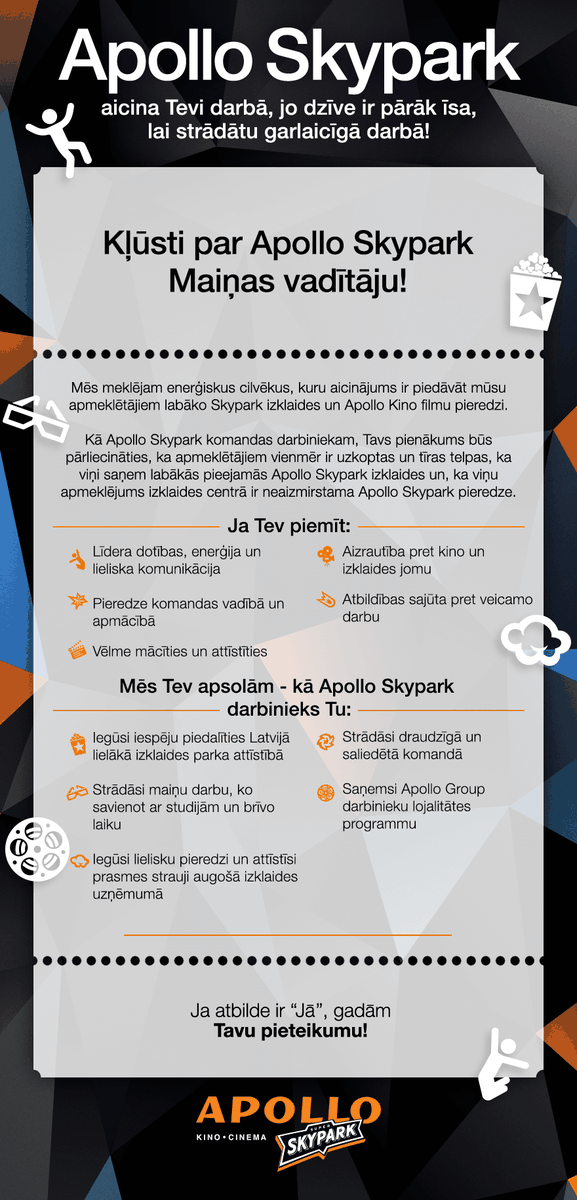 Requirements
Līdera dotības, enerģija un lieliska komunikācija.
Pieredze komandas vadībā un apmācībā.
Vēlme mācīties un attīstīties.
Aizrautība pret kino un izklaides jomu.
Atbildības sajūta pret veicamo darbu.
Duties
Mēs meklējam enerģiskus cilvēkus, kuru aicinājums ir piedāvāt mūsu apmeklētājiem labāko Skypark izklaides un Apollo Kino filmu pieredzi. Kā Apollo Skypark komandas darbiniekam Tavs pienākums būs pārliecināties, ka apmeklētājiem vienmēr ir uzkoptas un tīras telpas, ka viņi saņem labākās pieejamās Apollo Skypark uzkodas un, ka viņu apmeklējums izklaides centrā ir neaizmirstama Apollo Skypark pieredze.
Proposal
Iegūsi iespēju piedalīties Latvijā lielākā izklaides parka attīstībā
Strādāsi maiņu darbu, ko savienot ar studijām un brīvo laiku
Veidosi un vadīsi draudzīgu komandu
Iegūsi lielisku pieredzi un attīstīsi prasmes strauji augošā izklaides uzņēmumā
Saņemsi Apollo Group darbinieku lojalitātes programmu (Apollo Skypark, kinoteātros un restorānos)
Atalgojums 7.0 euro / stunda bruto
Pieteikties šeit:
https://recruitlab.co.uk/i/apollolv/jobs/40/maias-vadtjs-apollo-skypark
Location
---
Vacancies you might be interested in
About the company

Other vacancies at Apollo Group