Kļūsti par CAFFEINE virtuves darbinieku
---
Applying for the vacancy has ended
---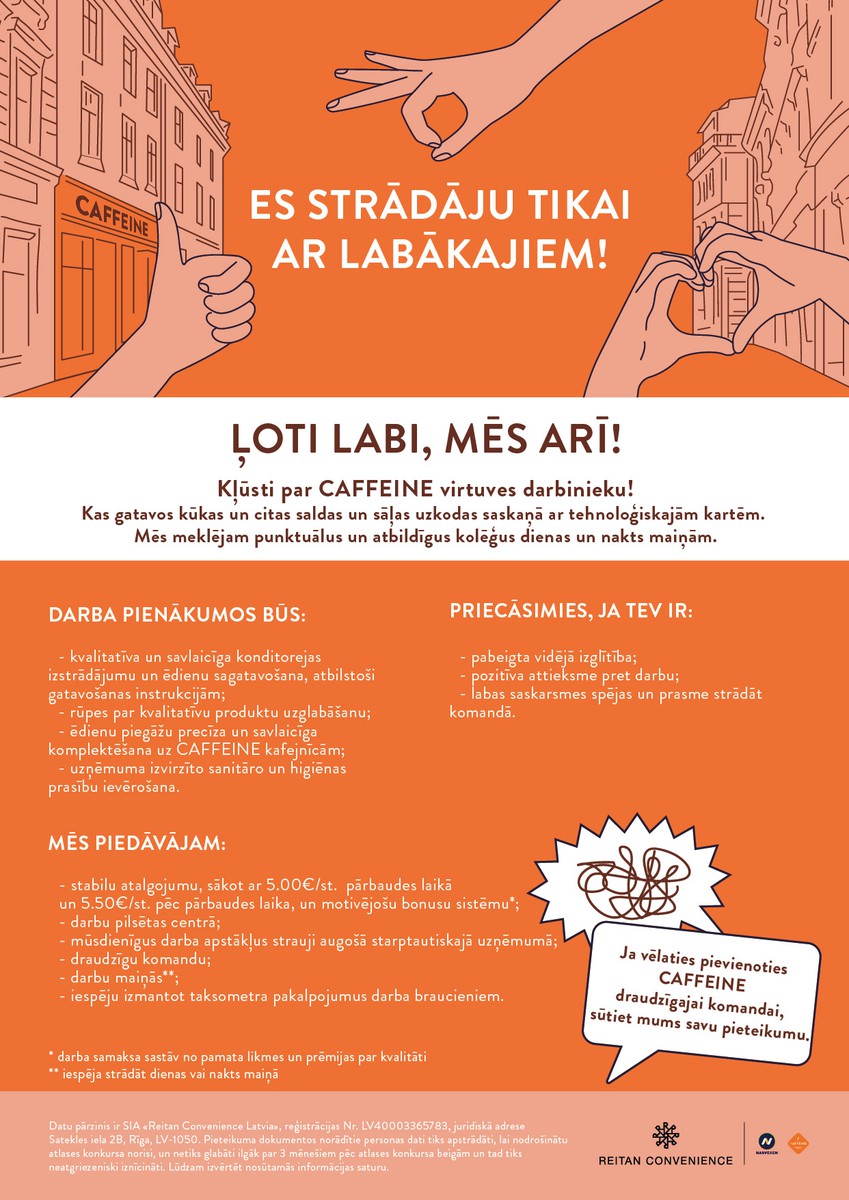 Proposal
Lūgums CV sūtīt uz darbs@caffeine.lv vai izmantot iekšējo portāla pieteikšanās sistēmu. Pateicamies par izrādīto interesi par mūsu sludinājumu!
Location
---
Vacancies you might be interested in
About the company

Reitan Convenience Latvia pārstāv zīmolus "Narvesen" un "Caffeine".

Narvesen ir vadošais mazumtirdzniecības franšīzes tīkls, kas visā Latvijā nodrošina ērtu iespēju ātri atjaunot enerģiju un saņemt ikdienā visnepieciešamākās preces un pakalpojumus. 249 tirdzniecības vietās Narvesen piedāvā daudzveidīgu svaigu un garšīgu ēdienu klāstu, atspirdzinošus dzērienus un plašu jaunāko preses izdevumu izvēli. Franšīzes tīkls Latvijā darbojas no 1997. gada, un Narvesen uzņēmumos, ieskaitot franšīzes ņēmējus, strādā vairāk nekā 650 darbinieki.

Narvesen franšīzes darbību Latvijā pārrauga uzņēmums SIA Narvesen Baltija, kurš pieder norvēģu uzņēmumam Reitan Convenience. Narvesen ietilpst Reitan uzņēmumu grupā, kas pārstāvēta Ziemeļvalstīs un Baltijā ar tādiem zīmoliem kā Narvesen, Pressbyrån, R-kiosk un 7-Eleven, nodrošinot starptautisku pieredzi.