DATA PROCESSING JUNIOR SPECIALIST
---
Salary(gross): from 1000 to 1080 EUR monthly
Applying for the vacancy has ended
---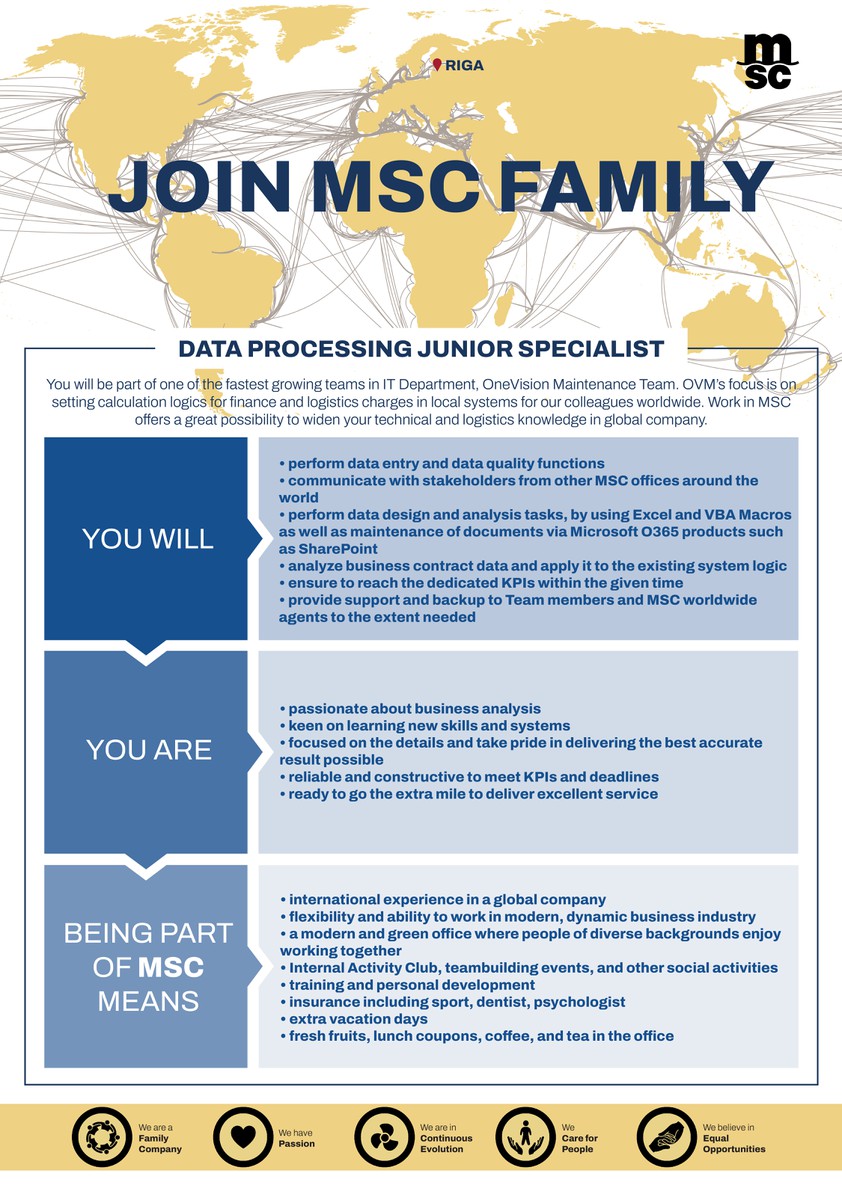 Description
MSC Mediterranean Shipping Company is a world leader in global container transportation, and a key market player in Latvia. The MSC Family consists of more than 70.000 family members, present in 155 countries.
The sense of family reflects the way we build, develop and harness positive relationships with our customers. We strongly believe that dedicated personnel resources are the key to our commercial success.
Our MSC Shared Service Center Riga Ltd. provides professional remote business support to many of our offices worldwide.
Voices of Employee
The work in OVM is never the same when you work with such a range of countries - it's challenging. You have to be a logical and analytic thinking person, but at the same time be able to have an individual approach and creative solutions for each project
- Anete, Senior Specialist
In our team you will have an opportunity to learn something new every day.
We appreciate the great deeds of others, encourage and always help each other with advice.
We support agencies around the world by finding different solutions in a timely and effective manner.
It takes teamwork to make the dream work.
- Una, Specialist
You can apply via prakse.lv website or by sending your CV and Motivation Letter to E-Mail:
scr-careers@msc.com. Please specify the vacancy in the E-Mail subject.
Location
---
Vacancies you might be interested in
About the company

MSC Mediterranean Shipping Company S.A. of Geneva, Switzerland is a privately owned shipping line, founded in 1970, which has rapidly grown from a small conventional ship operator to become one of the leading global shipping lines of the world. During recent years MSC's maritime fleet has expanded substantially to consolidate its position as the 2nd largest carrier in respect of container slot capacity and of the number of container vessels operated.

MSC Shared Service Centre Riga is a part of MSC (Mediterranean Shipping Company), a world leader in global container shipping and is one of the market leaders in container shipping in Latvia. While MSC offices and the commercial network is spread around the world, the business of MSC Shared Service Centre Riga is conducted from the local office in Latvia.

Address: Uriekstes Street 2A, Riga LV-1005, Latvia
Other vacancies at MSC Shared Service Center Riga, SIA