Content Creation / Social Media
---
Applying for the vacancy has ended
---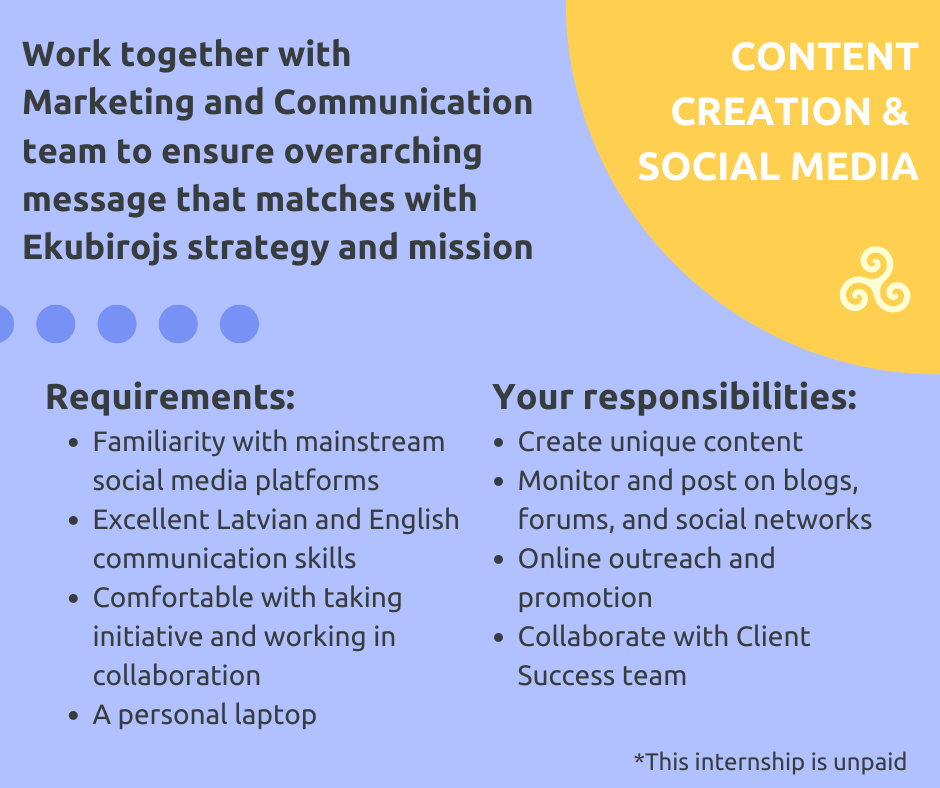 Description
Forward-thinking, growing NGO looking to hire an intern with strong knowledge and understanding of the digital media landscape, including various social media websites.
The company is currently expanding its social media presence. The candidate needs to have a "do what it takes" attitude with a proven track record in social media.
How to apply?
Please fill out this form https://forms.gle/gVf7B6umu86JfTyk9 .
* You can start this internship immediately.
** This internship is unpaid.
Requirements
1) Creative self-starter who is comfortable with both taking initiative and working in collaboration;
2) Openness to learning, willingness to try anything, strong communication/writing skills, and out of the box thinking to promote the product in a unique and creative way;
3) Experience with basic photo editing and video editing, is not necessary but it is a plus;
4) Familiarity with mainstream social media platforms, including but not limited to Facebook, Twitter, Instagram, etc;
5) Excellent communication skills both verbal and written in Latvian and English. Russian as a plus;
6) A personal laptop.
Duties
1) Work together with Marketing and Communications team to ensure the overarching message that matches with Ekubirojs strategy and mission;
2) Grow online social networks by increasing fan-base and interactions;
3) Create unique content tailored to Ekubirojs message;
4) Monitor and post on blogs, forums, and social networks;
5) Collaborate with Client Success team to ensure a consistent campaign and relative content;
6) Online outreach and promotion using Facebook, Instagram, Twitter, and more;
7) Familiarity with social media analytics such as Facebook Insights to assess trends and Twitter analytics and keyword analysis;
8) Review data on the performance of social media platforms and adjust plans or strategies to optimize outreach;
9) Performs research to find articles, stories, resources, or other content that is relevant
photos, video, or other content from activities and events.
Location
---
Vacancies you might be interested in
About the company