Bioinformatics Assistant
---
Salary(gross): 1700 EUR monthly
---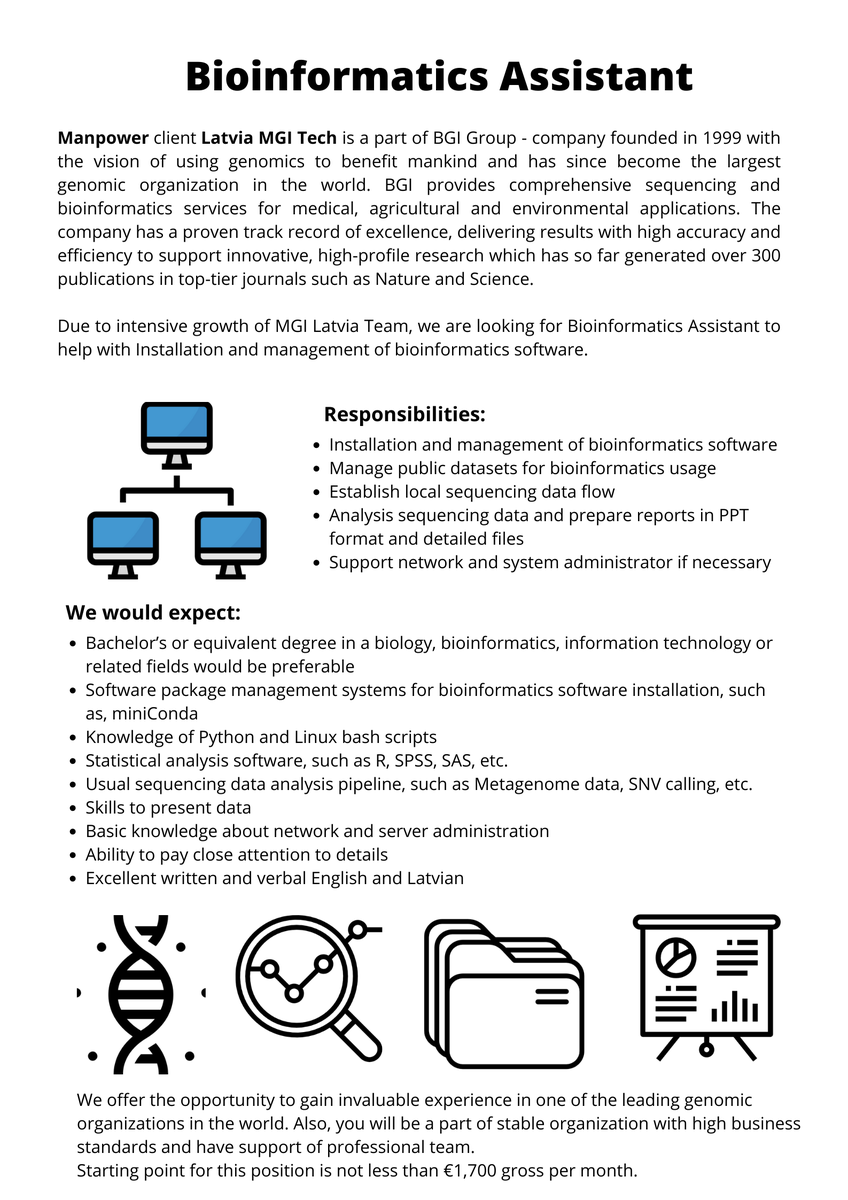 Description
Manpower client Latvia MGI Tech is a part of BGI Group - company founded in 1999 with the vision of using genomics to benefit mankind and has since become the largest genomic organization in the world. BGI provides comprehensive sequencing and bioinformatics services for medical, agricultural and environmental applications. The company has a proven track record of excellence, delivering results with high accuracy and
efficiency to support innovative, high-profile research which has so far generated over 300 publications in top-tier journals such as Nature and Science. Due to intensive growth of MGI Latvia Team, we are looking for Bioinformatics Assistant to help with Installation and management of bioinformatics software.
Requirements
Bachelor's or equivalent degree in a biology, bioinformatics, information technology or
related fields would be preferable
Software package management systems for bioinformatics software installation, such
as, miniConda
Knowledge of Python and Linux bash scripts
Statistical analysis software, such as R, SPSS, SAS, etc.
Usual sequencing data analysis pipeline, such as Metagenome data, SNV calling, etc.
Skills to present data
Basic knowledge about network and server administration
Ability to pay close attention to details
Excellent written and verbal English and Latvian
Duties
Installation and management of bioinformatics software
Manage public datasets for bioinformatics usage
Establish local sequencing data flow
Analysis sequencing data and prepare reports in PPT format and detailed files
Support network and system administrator if necessary
Proposal
The opportunity to gain invaluable experience in one of the leading genomic organizations in the world. Also, you will be a part of stable organization with high business standards and have support of professional team. Starting point for this position is not less than €1,700 gross per month.
Location
---
Vacancies you might be interested in
About the company

Manpower ir 1948. gadā ASV dibināts starptautisks uzņēmums, kas piedāvā inovatīvus nodarbinātības pakalpojumus. Uzņēmumam ir vairāk nekā 3900 biroji 80 valstīs un tas ir pasaules līderis personālvadības un nodarbinātības pakalpojumu jomā. Manpower piedāvā inovatīvus risinājumus personāla vadības jomā, sākot ar pagaidu darbinieku nodrošināšanu, personāla atlasi, darba algu aprēķinu un administrēšanu līdz "outplacement" pakalpojumiem un konsultācijām.

Manpower savu darbību Latvijā uzsāka 2006. gadā. Šobrīd esam līderis pagaidu darbinieku nodrošināšanā un esam īstenojuši virkni vērienīgu atlases projektu vairākām starptautiskām kompānijām. Manpower Latvia ir licencēts uzņēmums, kas sniedz darbiekārtošanas pakalpojumus Latvijā, Nīderlandē un Ungārijā.

Ja šobrīt neatrodi sev vēlamu vakanci, pievieno savu CV un sazināsimies: https://www.directch.com/registercv

Sekojiet mums:

Mājaslapa: http://www.manpower.lv

LinkedIn: https://www.linkedin.com/company/685562/

Facebook: https://www.facebook.com/manpower.lv/

Instagram: https://www.instagram.com/manpower_latvia/