Technical Records Specialist
---
Applying for the vacancy has ended
---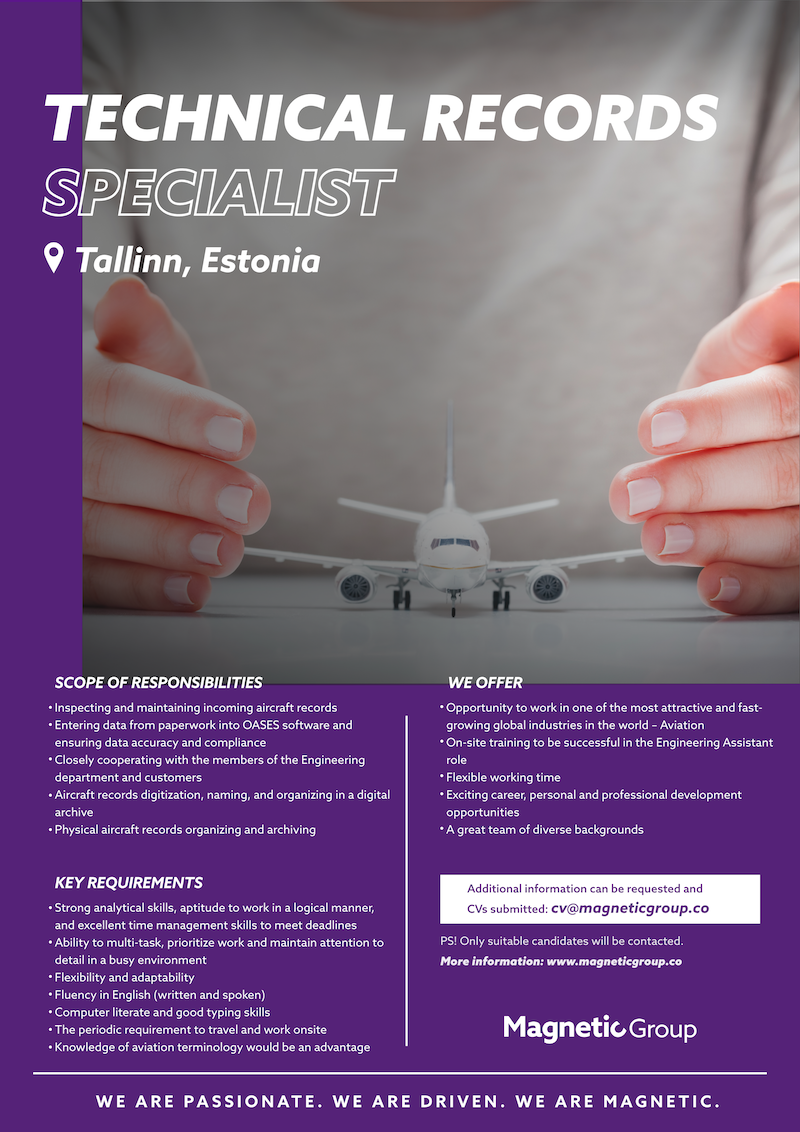 Description
If you are interested in working in aviation but have little professional experience, this position might be a good fit for you.
Apply for the role of Technical Records Specialist and get ready for the flight of a lifetime!
Requirements
Strong analytical skills, aptitude to work in a logical manner, and excellent time management skills to meet deadlines.
Ability to multi-task, prioritize work and maintain attention to detail in a busy environment.
Flexibility and adaptability.
Fluency in English (written and spoken).
Computer literate and good typing skills.
The periodic requirement to travel and work onsite.
Knowledge of aviation terminology would be an advantage.
Duties
Inspecting and maintaining incoming aircraft records.
Entering data from paperwork into OASES software and ensuring data accuracy and compliance.
Closely cooperating with the members of the Engineering department and customers.
Aircraft records digitization, naming, and organizing in a digital archive.
Physical aircraft records organizing and archiving.
Proposal
Opportunity to work in one of the most attractive and fast-growing global industries in the world – Aviation.
On-site training to be successful in the Engineering Assistant role.
Flexible working time.
Exciting career, personal and professional development opportunities.
A great team of diverse backgrounds.
Location
---
Vacancies you might be interested in
About the company

Magnetic Group is anything but ordinary. Although the airline maintenance business is highly standardized, our approach is unique. With our range of brands, each with different services, Magnetic Group has a holistic care offering built around effectiveness, trust, passion, enthusiasm, and an exceptional drive to go the extra mile.

In a sector where every company delivers similar products and services, it is crucial to find another way to stand out from the competition. In the aviation business, providing high quality is a given. And although there is some innovation, little sets companies apart on the technical level. Magnetic`s distinctive difference comes from its culture. We want to turn a traditionally conservative business experience into an exciting and rewarding one and we are the industry`s most passionate company.

Our mission is to help aviation companies help the world.

We are passionate. We are driven. We are Magnetic.