Avionics Technician Apprentice
---
Applying for the vacancy has ended
---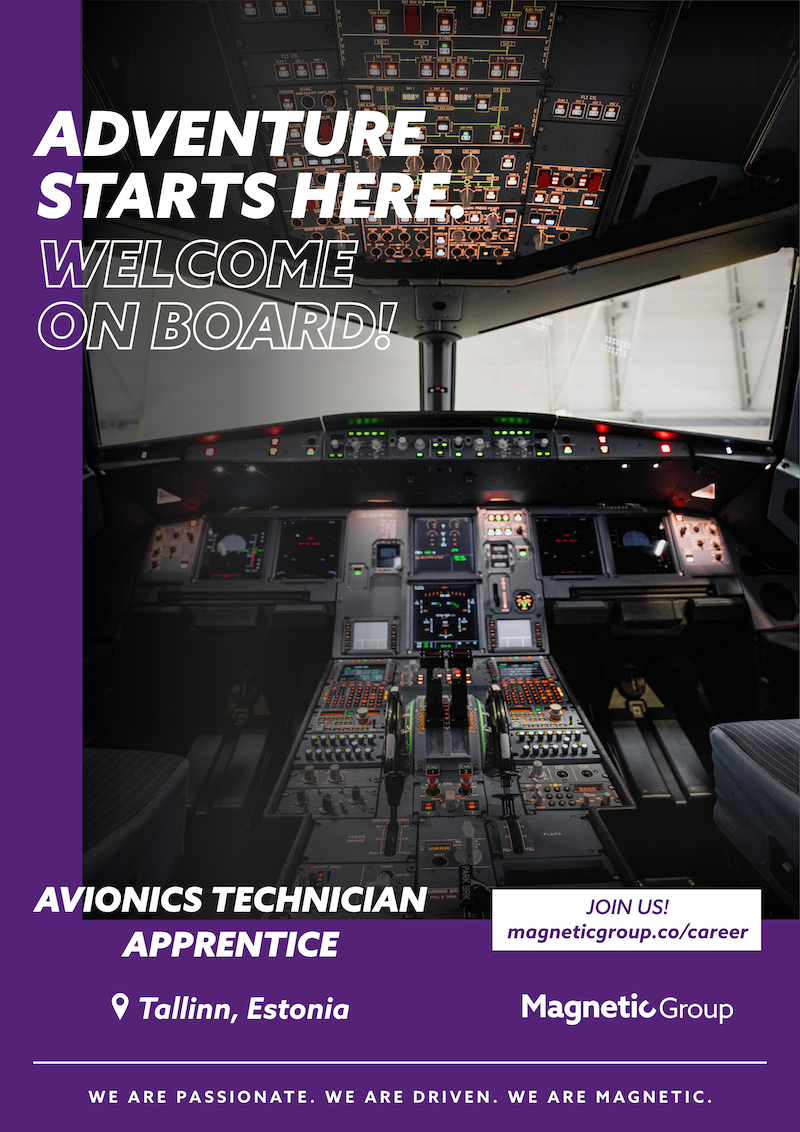 Description
Do you wish to become a part of one of the fastest-growing industries in the world? Work with brilliant minds and discover your skills? See your effort pay off and invest in your top-notch career?
If you do, then get ready to join our apprenticeship program and take your first steps into the adventure of your lifetime.
We are looking for Avionics Apprentices to join our Base Maintenance team here in Tallinn.
You'll work with experienced technicians on a wide variety of aircraft maintenance tasks. Our extraordinary aircraft maintenance team needs extraordinary avionics – and that's what you will become through our apprentice program.
Requirements
Graduated from secondary school. Technical education in any trade is an advantage.
Great health and physical endurance (work involves sitting on knees, working in heights, a confined place, usage of face masks etc.).
Ability to intake, retain and utilize a large amount of information.
Good English language skills, both written and spoken.
Analytical thinking, ability to finish tasks on time and to take responsibility.
Readiness to work efficiently and organize your work.
Confident, mindful, and proactive attitude.
Duties
Performs preventive maintenance, inspections, servicing, and operational tests on aircraft under the guidance of a mentor.
Read and interpret wiring schematics and wiring manuals and apply the knowledge during modifications and troubleshooting works.
Perform inspections and repair works of electrical wires, routine maintenance of avionic and electrical systems, and removal/installation of avionic and electrical components.
Follow internal procedures and rules.
Work in shifts and meet the given deadline.
Proposal
Introduction to one of the most attractive global industries – Aviation.
Exciting career opportunities.
A great team with diverse backgrounds who are truly aviation fans.
Hands-on experience with industry experts.
Way too cool of a workplace to start your new career.
Sports, health benefits and company-wide team events.
Location
---
Vacancies you might be interested in
About the company

Magnetic Group is anything but ordinary. Although the airline maintenance business is highly standardized, our approach is unique. With our range of brands, each with different services, Magnetic Group has a holistic care offering built around effectiveness, trust, passion, enthusiasm, and an exceptional drive to go the extra mile.

In a sector where every company delivers similar products and services, it is crucial to find another way to stand out from the competition. In the aviation business, providing high quality is a given. And although there is some innovation, little sets companies apart on the technical level. Magnetic`s distinctive difference comes from its culture. We want to turn a traditionally conservative business experience into an exciting and rewarding one and we are the industry`s most passionate company.

Our mission is to help aviation companies help the world.

We are passionate. We are driven. We are Magnetic.