Photo and Video Editor Intern
---
Salary(gross): 500 EUR monthly
Applying for the vacancy has ended
---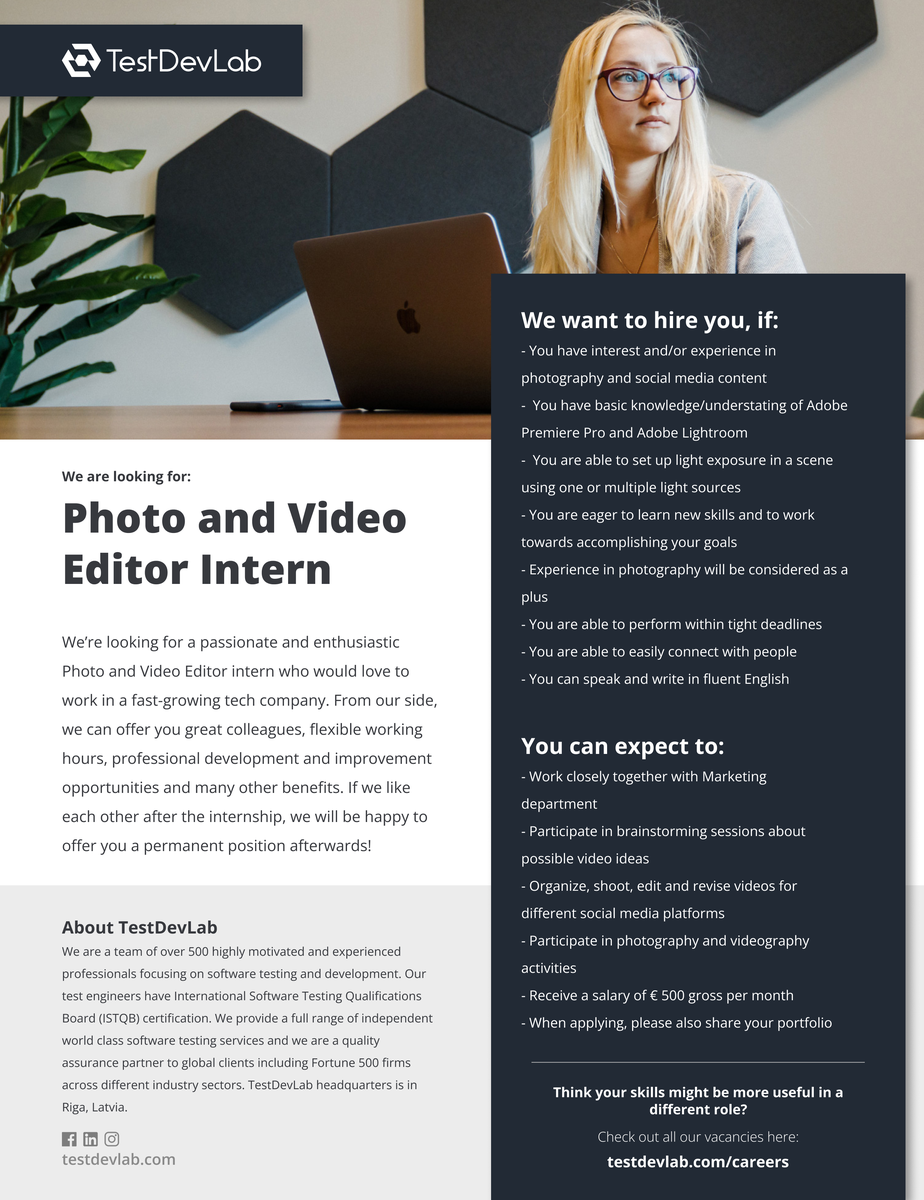 Description
We're looking for a passionate and enthusiastic Photo and Video Editor intern who would love to work in a fast-growing tech company. From our side, we can offer you great colleagues, flexible working hours, professional development and improvement opportunities and many other benefits. If we like each other after the internship, we will be happy to offer you a permanent position afterwards!
Requirements
We want to hire you, if:

- You have interest and/or experience in photography and social media content
- You have basic knowledge/understating of Adobe Premiere Pro and Adobe Lightroom
- You are able to set up light exposure in a scene using one or multiple light sources
- You are eager to learn new skills and to work towards accomplishing your goals
- Experience in photography will be considered as a plus
- You are able to perform within tight deadlines
- You are able to easily connect with people
- You can speak and write in fluent English
Duties
You can expect to:

- Work closely together with Marketing department
- Participate in brainstorming sessions about possible video ideas
- Organize, shoot, edit and revise videos for different social media platforms
- Participate in photography and videography activities
- Receive a salary of € 500 gross per month
- When applying, please also share your portfolio
Location
---
Vacancies you might be interested in
About the company

Evaluations: 17
Esam strauji augošs uzņēmums, kas nodarbojas ar Informāciju tehnoloģiju produktu izstrādi, kā arī ar programmatūras kvalitātes nodrošināšanas pakalpojumu sniegšanu. Dažu gadu laikā esam izauguši līdz 450 darbinieku lielai komandai, kas strādā no Rīgas, Ventspils, Liepājas, Valmieras, Jelgavas un Daugavpils ofisiem.

Tā kā TestDevLab ir starptautisks uzņēmums, tad Tevi sagaida iespēja strādāt pie kāda globāla projekta un apmeklēt mūsu klientus vai sadarbības partnerus ne tikai Eiropā, bet arī Āzijā vai ASV. Mūsu lielākie sadarbības partneri ir Skype, Microsoft, Orange, Twilio, SEB, Smart-ID un daudzi citi.

Uzņēmumā strādā daudz studentu, tādēļ atbalstām viņu aktivitātes izglītības iestādēs, kā arī pie mums strādājošiem studentiem piedāvājam iespēju apvienot mācības ar darbu pēc saviem ieskatiem.

Uzņēmums darbiniekiem nodrošina apmācības, kursus un apmaksā sertifikācijas ar darba specifiku saistītajās nozarēs. Visiem kvalitātes inženieriem ir iespēja iegūt starptautiski atzītu kvalitātes nodrošināšanas sertifikātu no ISTQB.

Mēs ne tikai strādājam, bet arī atpūšamies. Katru gadu ziemā un vasarā uzņēmums saviem darbiniekiem rīko pasākumus un sporta spēles. Tāpat darbinieki var attīstīt savus tehnoloģiju projektus vai piedalīties dažādos hakatonos.
Other vacancies at TestDevLab SIA