Palīgs nepārtikas nodaļās
---
Applying for the vacancy has ended
---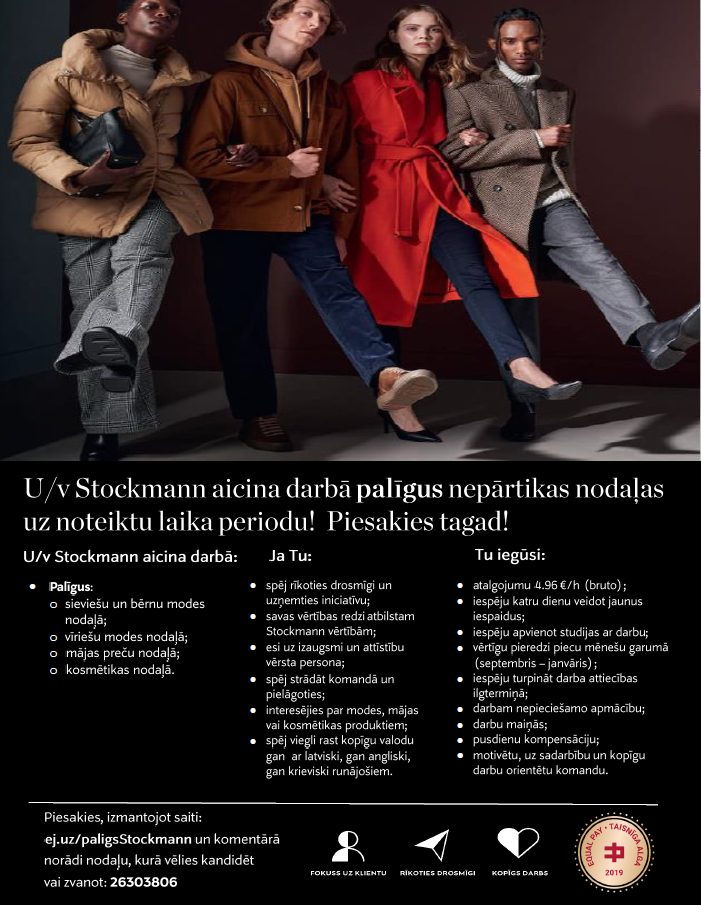 Description
U/v Stockmann aicina darbā palīgus nepārtikas nodaļas uz noteiktu laika periodu! Piesakies tagad!
Mēs meklējam:
Palīgus:
sieviešu un bērnu modes nodaļā;
vīriešu modes nodaļā;
mājas preču nodaļā;
kosmētikas nodaļā.
Tu iegūsi:
atalgojumu 4.96 €/h (bruto);
iespēju katru dienu veidot jaunus iespaidus;
iespēju apvienot studijas ar darbu;
vērtīgu pieredzi piecu mēnešu garumā (septembris – janvāris);
iespēju turpināt darba attiecības ilgtermiņā;
darbam nepieciešamo apmācību;
darbu maiņās;
pusdienu kompensāciju;
motivētu, uz sadarbību un kopīgu darbu orientētu komandu.
Lai pieteiktos, spied ŠEIT
Location
---
Vacancies you might be interested in
About the company

Stockmann Rīga ir daļa no Somijas uzņēmuma universālveikalu grupas ar veikaliem Somijā, Igaunijā un Latvijā. Stockmann pozicionē sevi kā iedvesmojošu un modernu iepirkšanās vietu, kam pamatā ir labākais serviss, aktuāli pasaules zīmoli, daudzveidīgs piedāvājums un vērtīga lojalitātes programma.