Administration
---
Applying for the vacancy has ended
---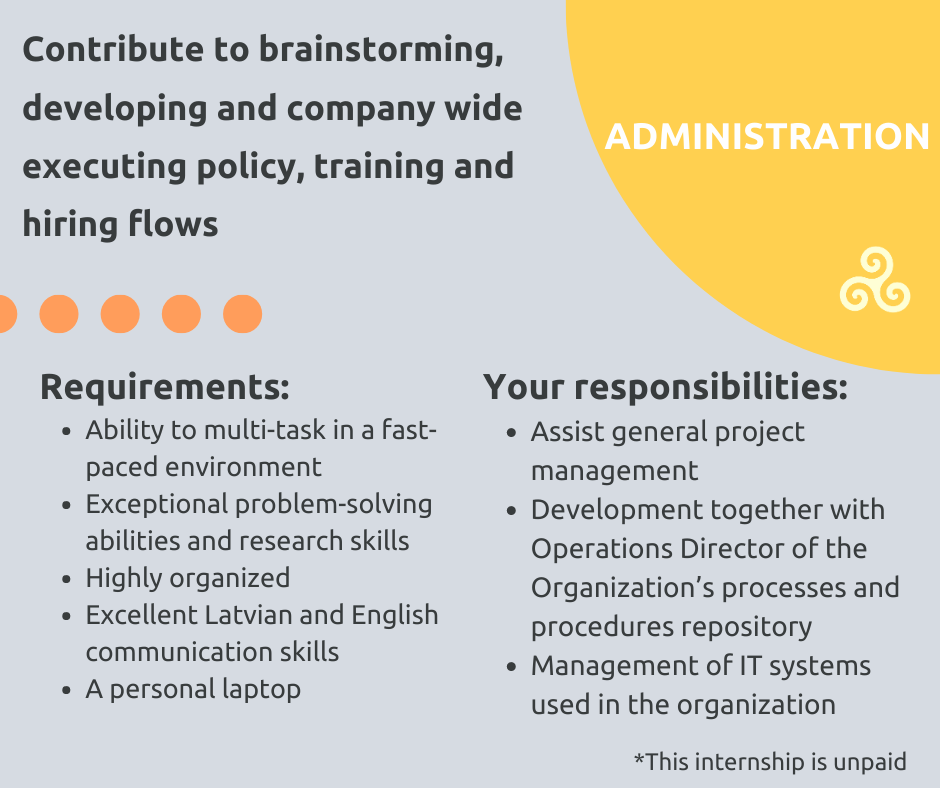 Description
Forward-thinking, growing NGO looking to hire an intern to support HR and Admin Teams. Interns will play a vital role in executing company-wide policies and initiatives. The candidate needs to have a "do what it takes" attitude with a proven track record in design.
How to apply?
Please fill out this form https://forms.gle/gVf7B6umu86JfTyk9 .
* You can start this internship immediately.
** This internship is unpaid.
Requirements
1) Ability to multi-task in a fast-paced environment;
2) Exceptional problem-solving abilities and research skills;
3) Highly organized;
4) Access to your own laptop;
5) Knowledge of Google Suite and WordPress is a plus;
6) Excellent communication skills both verbal and written in Latvian and English. Russian as a plus.
Proposal
1) Contribute to brainstorming, developing, and company-wide executing policy, training, and hiring flows;
2) Development together with Operations Director of the Organization's processes and procedures repository;
3) Assist general project management;
4) Management of IT systems used in the organization.
Location
---
Vacancies you might be interested in
About the company