E-kursu izstrādātājs
---
Salary(gross): from 800 to 1100 EUR monthly
---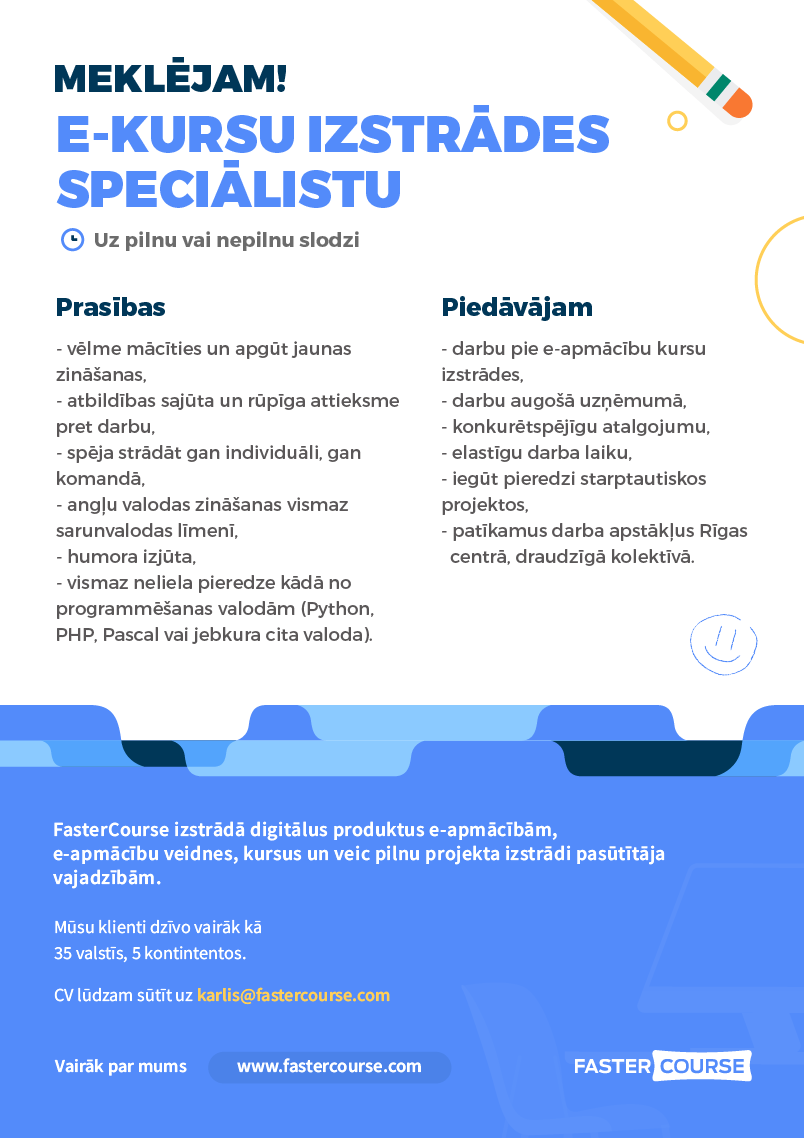 Description
Meklējam e-kursu izstrādātāju. Vairāk informācijas pievienotajā darba sludinājuma attēlā. Vairāk par mums: https://fastercourse.com
Requirements
- vēlme mācīties un apgūt jaunas lietas
- atbildības sajūta un rūpīga pieeja darbam
- spēja strādāt individuāli un arī komandā
- angļu valodas zināšanas vismaz sarunvalodas līmenī
- humora izjūta
- vismaz neliela pieredze kādā no programmēšanas valodām, vienalga vai tā ir Python, PHP vai Pascal, vai kāda cita valoda.
Duties
Proposal
- darbu pie e-apmācību kursu izstrādes
- darbu augošā uzņēmumā
- konkurētspējīgu atalgojumu
- elastīgu darba laiku
- iegūt pieredzi starptautiskos projektos
- patīkamus darba apstākļus Rīgas centrā draudzīgā kolektīvā
Lūgums CV sūtīt uz karlis@fastercourse.com vai izmantot iekšējo portāla pieteikšanos sistēmu. Paldies.
Location
---
Vacancies you might be interested in
About the company

FasterCourse izstrādā digitālus produktus un e-apmācību saturu, lai cilvēki visā Pasaulē varētu mācīties tiešsaistē. Mūsu klienti parasti ir lieli uzņēmumi ASV, Lielbritānijā un Skandināvijā. Esam izteikti uz startpautiskiem projektiem orientēts uzņēmums.