Maiņas vadītājs/-a Ventspilī
---
Salary(gross): from 1040 to 1150 EUR monthly
Applying for the vacancy has ended
---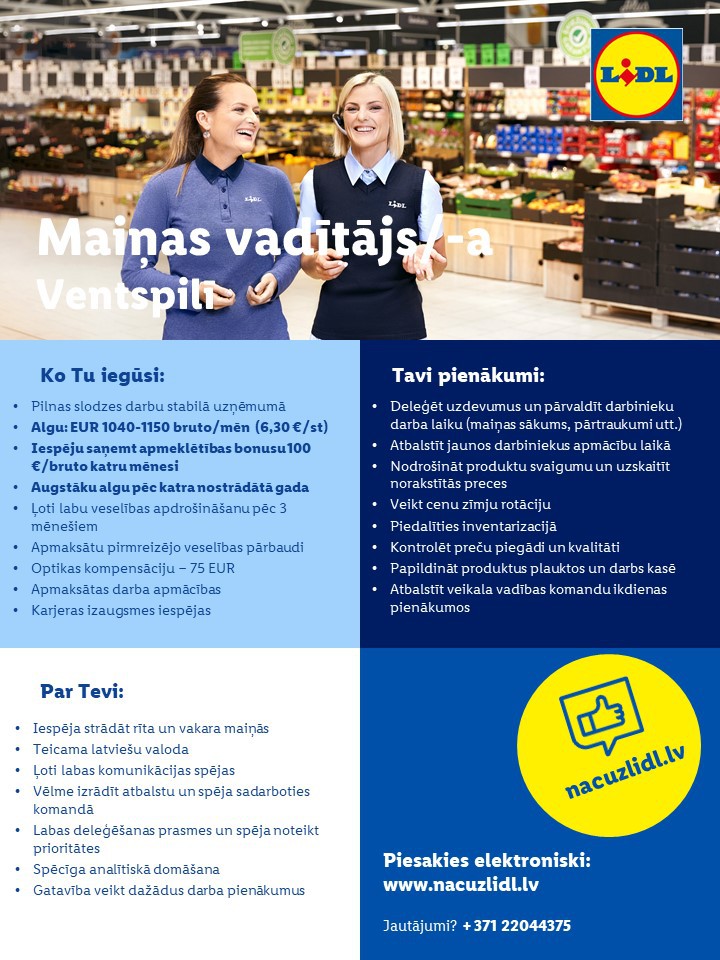 Description
Lidl ir viens no lielākajiem pārtikas mazumtirdzniecības uzņēmumiem Eiropā - pārstāvēts 32 valstīs visā pasaulē ar vairāk nekā 11 200 veikaliem, 200 loģistikas centriem un sniedz darba iespējas ~ 310 000 darbiniekiem. Darbs Lidl veikalā nozīmē ik dienu cilvēkiem nodrošināt lielisku iepirkšanās pieredzi. Darīt darbu rūpīgi un visu laiku pilnveidoties. Pie mums valda savstarpēja uzticība, un svarīgs ir ikviens darbinieks.
Pieteikšanās: https://ieej.lv/7EStT
Kandidāti tiek izvērtēti neatkarīgi no personas rases, ādas krāsas, dzimuma, vecuma, invaliditātes, reliģiskās, politiskās vai citas pārliecības, nacionālās vai sociālās izcelsmes, mantiskā vai ģimenes stāvokļa, seksuālās orientācijas vai citiem apstākļiem.
Location
---
Vacancies you might be interested in
About the company

Mēs esam veiksmīga pārtikas veikalu ķēde, kura jau vairāk nekā 40 gadus turpina paplašināties visā Eiropā. Šobrīd mēs strādājam 32 pasaules valstīs un piedāvājam augstākās kvalitātes pārtikas un nepārtikas produktus par iespējami zemākajām cenām vairāk nekā 12 000 veikalos 32 valstīs.
Other vacancies at SIA Lidl Latvija