KĀRŠU JAUCĒJS
---
Applying for the vacancy has ended
---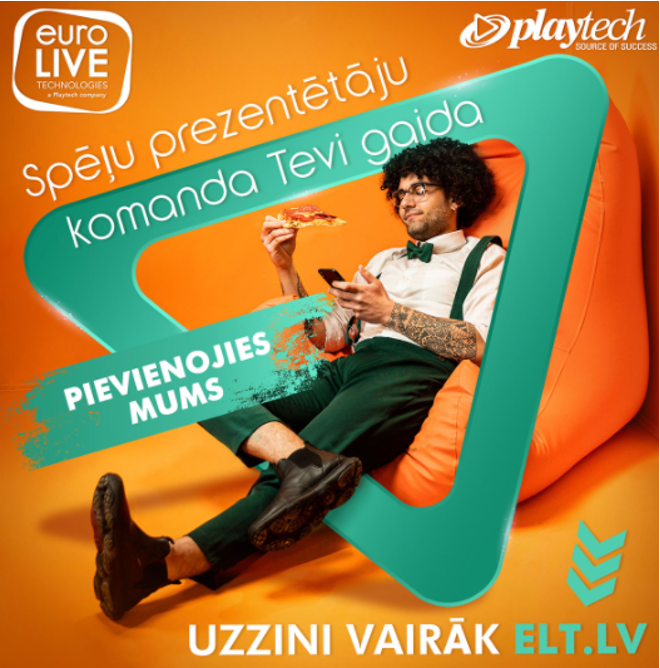 Requirements
Veikt tehnisku darbu - kāršu jaukšanu un to sagatavošanu spēlei
Pārbaudīt kāršu kvalitāti un skaitu
Darbs norit precīzi un šī būs īstā darba vieta cilvēkiem, kuriem patīk ievērot procedūras un pievērst uzmanību detaļām.
Duties
Visas nepieciešamās zināšanas un prasmes iespējams apgūt mūsu rīkotās un apmaksātās apmācībās piecu darba dienu laikā (apmācību laiks 9:00 - 16:00)
Proposal
Atalgojums no € 5.11 - 6.00 bruto stundā
Apmaksātas apmācības
Pilna laika vai pusslodzes darbs, ko var apvienot ar studijām
Karjeras izaugmes iespējas
Mūsdienīgu darba vietu ar atpūtas zonām un spēlēm
Draudzīgus kolēģus un foršus saliedēšanās pasākumus
Veslības apdrošināšanu
Bezmaksas manikīru
Atlaides pie dažādiem sadarbības partneriem
Dāvanas svētkos
Un vēl...
Lūgums CV sūtīt uz cvriga@playtech.com vai izmantot iekšējo portāla pieteikšanās sistēmu.
Jau iepriekš pateicamies par izteikto interesi un nosūtīto CV.
Location
---
Vacancies you might be interested in
About the company

Euro Live Technologies (ELT), is one of the leading live video stream service providers, established in 2008 it successfully collaborates with the world's leading gaming operators and is experiencing rapid growth.

Initially ELT had only 75 employees but now we employ more than 1800. The Company is included among Latvian largest taxpayers.

We are proud that our brand is part of the international company Playtech, which is the world's leading on-line gaming software developer and live video stream gaming service provider.

Playtech offers modern value-added solutions to the world's leading gaming operators. The company is public and it is listed in London's stock-exchange. Founded in 1999, Playtech employs more than 5000 people in 14 different countries.

Our brand reflects our core values, and these values are manifested in our daily work – in action and attitude towards the clients, colleagues and public in general.

To strengthen our brand we want to become the leader in the live video stream service providers' market, providing our customers the highest quality services, encouraging growth and prosperity of our employees.