Junior Interior Workshop Specialist
---
Salary(gross): 1300 EUR monthly
Applying for the vacancy has ended
---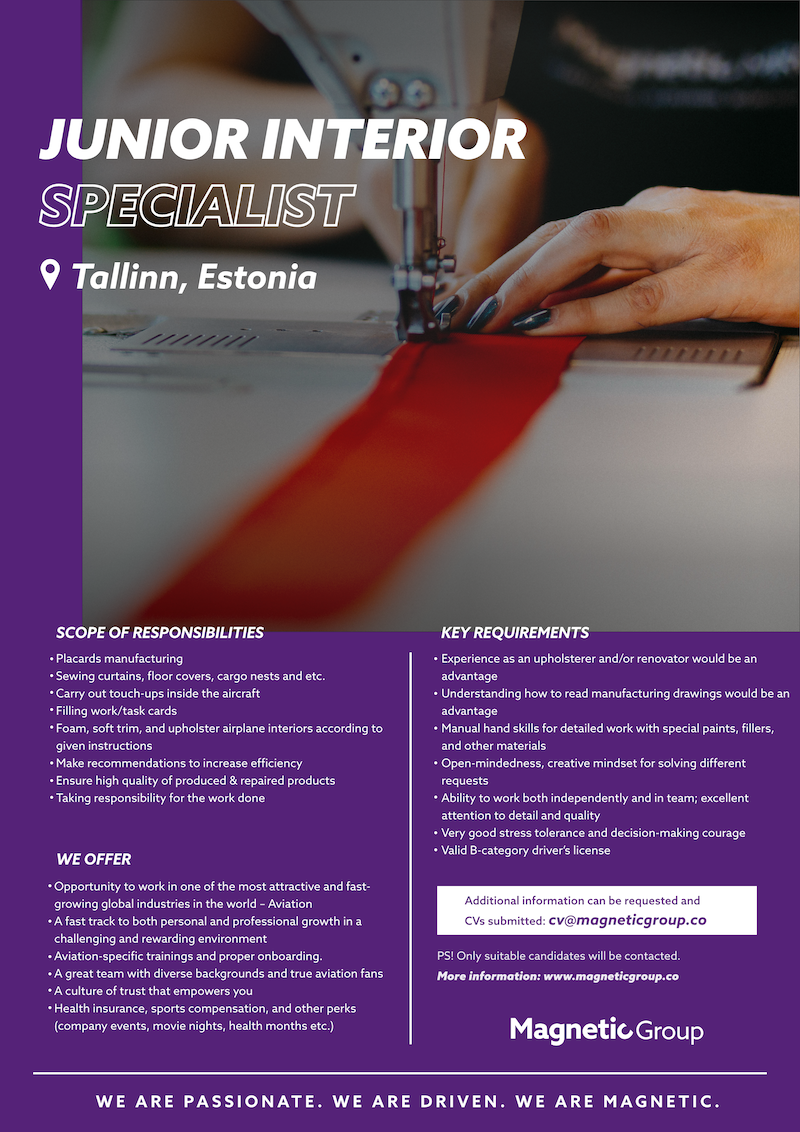 Description
Are you interested in a career in the aviation industry? Do you have an eye for detail? Do you like to see the immediate results of your work? If yes, then this position may be for you!
The main responsibility of the (Junior) Interior Workshop Specialist is to handle specific leather and plastic touch-ups for customer's aircraft which will include both - passenger and VIP jets. In addition, there will be a chance to work under the Magnetic Group Production Organization – Magnetic Creative which means supporting the production of different interior-related products for customers worldwide. You will get an opportunity to work with different materials, paints, and fillers. Plus, a lot of development and career opportunities in one of the most attractive global industries – Aviation.
Requirements
Experience as an upholsterer and/or renovator would be an advantage.
Understanding how to read manufacturing drawings would be an advantage.
Manual hand skills for detailed work with special paints, fillers, and other materials.
Open-mindedness and creative mindset for solving different requests.
Solid written and oral communication skills (Estonian and English are a must, other languages a plus).
Systematic attitude towards prewritten procedures and documentation.
Ability to work both independently and in team.
Excellent attention to detail and quality assurance.
Willingness to learn upholstery skills/illustrative programs.
Very good stress tolerance and decision-making courage.
Valid B-category driver's license.
Duties
Placards manufacturing.
Sewing curtains, floor covers, cargo nests etc.
Carry out touch-ups inside the aircraft.
Filling work/task cards.
Foam, soft trim, and upholster airplane interiors according to given instructions.
Make recommendations to increase efficiency.
Ensure high quality of produced & repaired products.
Taking responsibility for the work done.
Proposal
Opportunity to work in one of the most attractive and fast-growing global industries in the world – Aviation.
A fast track to both personal and professional growth in a challenging and rewarding environment.
Aviation-specific training and proper onboarding.
A great team with diverse backgrounds and true aviation fans.
A culture of trust that empowers you.
Health insurance, sports compensation, and other perks (company events, movie nights, health months etc.).
Location
---
Vacancies you might be interested in
About the company

Magnetic Group is anything but ordinary. Although the airline maintenance business is highly standardized, our approach is unique. With our range of brands, each with different services, Magnetic Group has a holistic care offering built around effectiveness, trust, passion, enthusiasm, and an exceptional drive to go the extra mile.

In a sector where every company delivers similar products and services, it is crucial to find another way to stand out from the competition. In the aviation business, providing high quality is a given. And although there is some innovation, little sets companies apart on the technical level. Magnetic`s distinctive difference comes from its culture. We want to turn a traditionally conservative business experience into an exciting and rewarding one and we are the industry`s most passionate company.

Our mission is to help aviation companies help the world.

We are passionate. We are driven. We are Magnetic.