European Legal
---
Applying for the vacancy has ended
---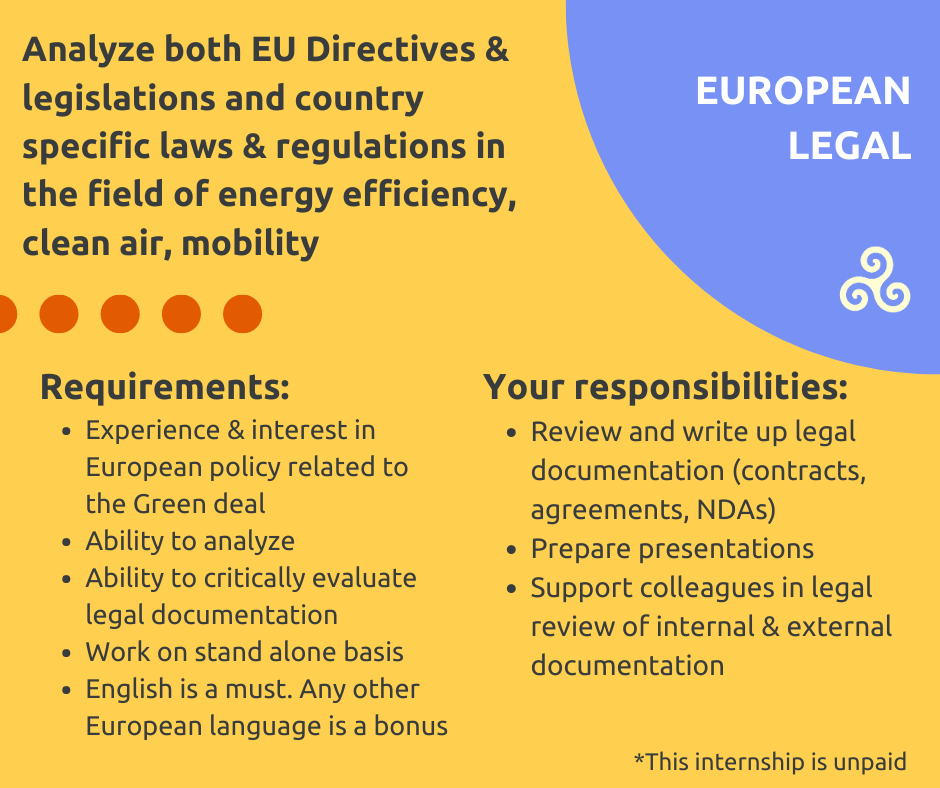 Description
Forward-thinking, growing NGO looking to hire an intern with strong knowledge and understanding of the European police, legislation, and legal documentation.
How to apply?
Please fill out this form https://forms.gle/gVf7B6umu86JfTyk9 .
* You can start this internship immediately.
** This internship is unpaid.
Requirements
1) Experience & interest in European policy related to the Green Deal;
2) Ability to analyze and reflect on country-specific legal frameworks, related to energy efficiency, consumer rights, homeownership, and others;
3) Ability to critically evaluate legal documentation such as NDAs, financing agreements, Energy Performance Contracts;
4) Work on a stand-alone basis;
5) English is a must. Any other European language (especially German, Spanish, Italian) is a bonus;
6) A personal laptop.
Duties
1) Analyse both EU Directives & legislations and country-specific laws & regulations in the field of energy efficiency, clean air, mobility;
2) Review and write up legal documentation (contracts, agreements, NDAs);
3) Prepare presentations;
4) Support colleagues in a legal review of internal & external documentation.
Location
---
Vacancies you might be interested in
About the company