Prakse Audita komandā / Internship in Audit
---
Salary(net): 300 EUR monthly
Applying for the vacancy has ended
---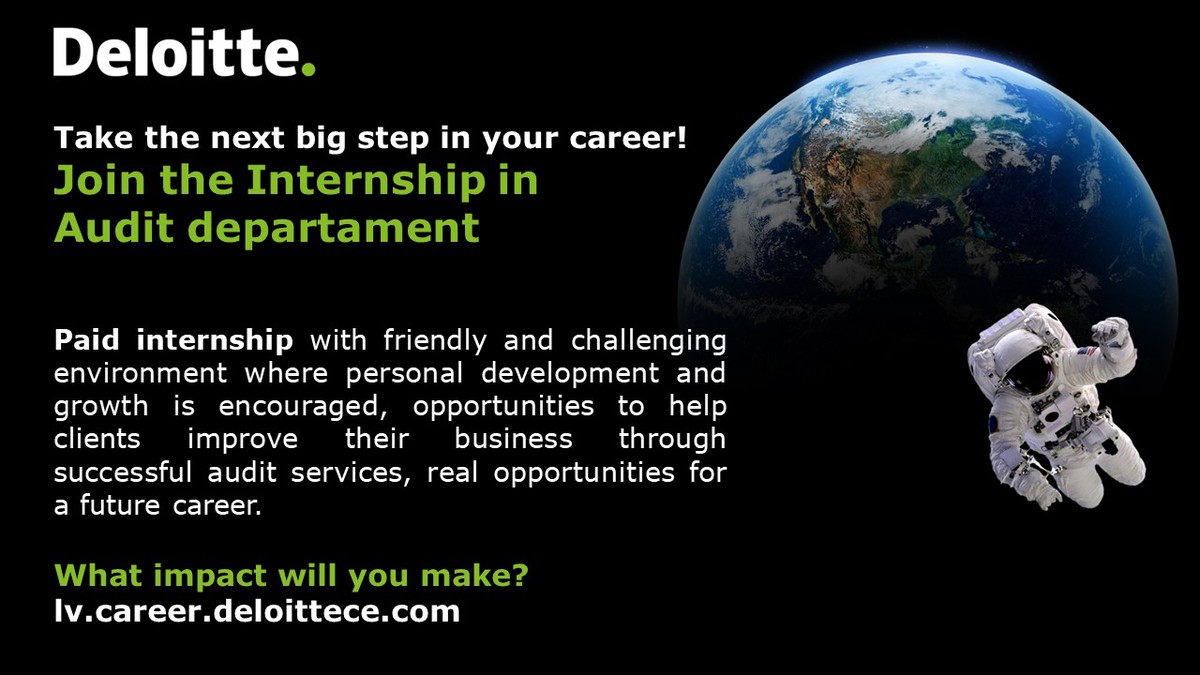 Description
In the fast-changing and increasingly technology-focused environment that we now live in, Deloitte Audit team will give you a chance to gain real insight into the world of business and get work experience in the financial services sector.
Currently, we are looking for highly motivated, ambitious, trustworthy and "make it happen" attitude Interns to join our team. This is an opportunity to get an inside look at what it's really like to work for a professional services organization!
Requirements
We are looking for candidates who possess the following skills:
Graduates or students in Economics/Finance/Accounting/Mathematics, starting year 2;
Strong interest in audit and financial analysis;
Strong verbal and written communication skills in both Latvian and English;
Proficiency in MS Office;
Motivated self-developers and quick learners;
Ability to work both independently and as part of a team with professionals at all levels.
Duties
As an Intern in Audit department, you will use your knowledge and analytical mind-set to assist in audit process to client financials, transactions and internal control processes. You will perform a variety of assurance and testing work for a portfolio of diversified clients in different industries. Given the many opportunities to work with different engagement teams and managers, you learn to collaborate very fast.
Proposal
Paid internship, 300 net scholarship for all our full-time interns.
The friendly and challenging environment where personal development and growth is encouraged, opportunities to help clients improve their business through successful audit services, real opportunities for a future career.
We offer full internship experience also in remote work conditions, cooperation with the audit team using remote tools (MS Teams, Skype, OneDrive, Outlook etc.). Introduction training when starting the internship.
Future career opportunities when the internship has been successfully completed.
Location
---
Vacancies you might be interested in
Work • Salary(gross): 1200 EUR monthly • till 30.11.2020
Internship • Salary(net): from 500 to 1000 EUR monthly • till 30.11.2020
Internship • till 24.12.2020
About the company

Deloitte sniedz revīzijas, nodokļu, juridiskos, konsultāciju un finanšu pakalpojumus valsts un privātajiem klientiem, kas aptver plašu nozaru tīklu. Deloitte sevi pierādījis kā 3. spēcīgāko brendu pasaulē. Globālā līmenī mūsu kompānija ir viens no senākajām un lielākajām šādu pakalpojumu sniedzējiem pasaulē, nodarbinot vairāk kā 286,000 profesionāļu 153 valstīs. Latvijā Deloitte pastāv jau 25 gadus, šobrīd apvienojot vairāk kā 160 savas jomas speciālistus, lai klientiem sniegtu labākos biznesa risinājumus.