JUNIOR E-COM PROJECT MANAGER Baltics & Belarus
---
Salary(gross): from 1400 to 1600 EUR monthly
Applying for the vacancy has ended
---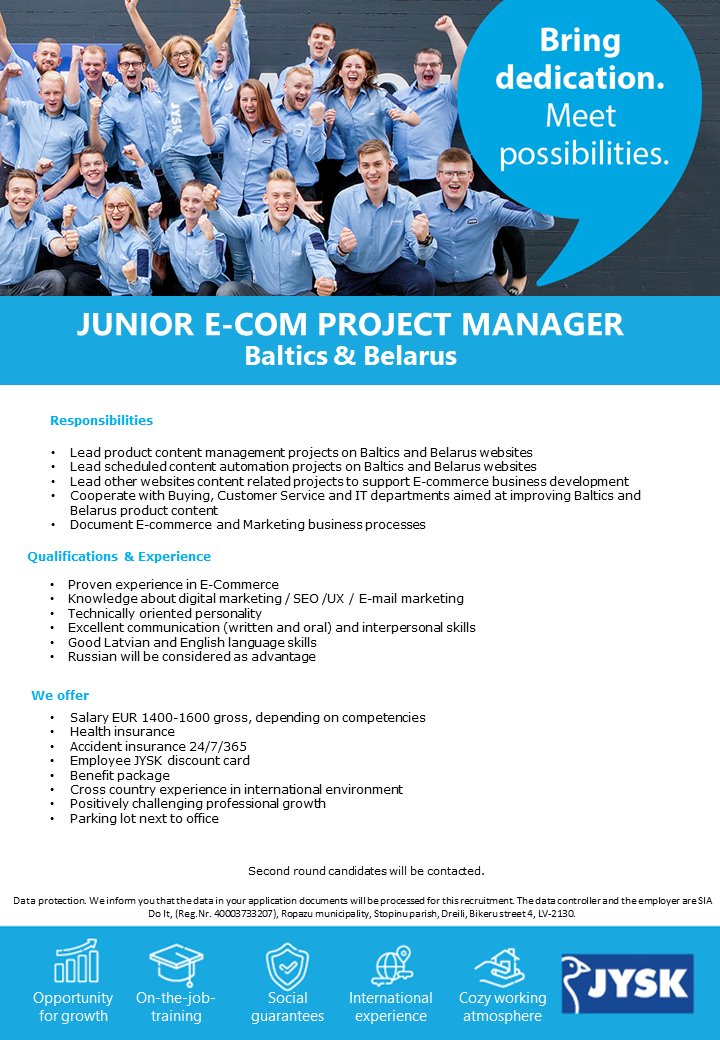 Requirements
•Proven experience in E-Commerce
•Knowledge about digital marketing / SEO /UX / E-mail marketing
•Technically oriented personality
•Excellent communication (written and oral) and interpersonal skills
•Good Latvian and English language skills
•Russian will be considered as advantage
Duties
•Lead product content management projects on Baltics and Belarus websites
•Lead scheduled content automation projects on Baltics and Belarus websites
•Lead other websites content related projects to support E-commerce business development
•Cooperate with Buying, Customer Service and IT departments aimed at improving Baltics and Belarus product content
•Document E-commerce and Marketing business processes
Proposal
•Salary EUR 1400-1600 gross, depending on competencies
•Health insurance
•Accident insurance 24/7/365
•Employee JYSK discount card
•Benefit package
•Cross country experience in international environment
•Positively challenging professional growth
•Parking lot next to office
Second round candidates will be contacted.
Data protection. We inform you that the data in your application documents will be processed for this recruitment. The data controller and the employer are SIA Do It, (Reg.Nr. 40003733207), Ropazu municipality, Stopinu parish, Dreili, Bikeru street 4, LV-2130.
Location
---
Vacancies you might be interested in
About the company

JYSK dod iespēju saviem pircējiem veikt "gudru izvēli", piedāvājot daudzveidīgu sortimentu visiem, kas novērtē cenas un kvalitātes attiecību.

JYSK ir starptautisks veikalu tīkls, kas piedāvā preces mājas labiekārtošanai. Ar JYSK Jūs varat labiekārtot ikvienu dzīves telpu sākot ar priekšnamu beidzot ar vannasistabu, jo vienuviet pieejams viss ikdienā nepieciešamais mājas labiekārtošanai - gultas veļa, segas, spilveni, galdauti, dvieļi, istabas un dārza mēbeles, apgaismes ierīces, sveces, salvetes un daudz citas noderīgas lietas.

Veikalu tīkla dibinātājs ir dāņu uzņēmējs Lars Larsens, kurš atvēra savu pirmo veikalu Dānijā 1979. gadā. Pašlaik JYSK aptver vairāk kā 2'000 veikalus 35 valstīs visā pasaulē. JYSK veikali ir atrodami, piemēram, Latvijā, Lietuvā, Igaunijā, Rumānijā, Bulgārijā, Dānijā, Norvēģijā, Zviedrijā, Somijā, Polijā, Čehijā, Ungārijā, Vācijā, Austrijā, Grenlandē, Īslandē, Krievijā, Ukrainā, Gruzijā, Spānijā un ASV. www.jysk.com.

JYSK Baltijā ir pazīstams kopš 2001.gada, kad t/p "Alfa" tika atvērts pirmais JYSK veikals Latvijā. Baltijā JYSK strādā uz franšīzes līguma pamata. Franšīzes turētājs ir Īslandes uzņēmējs Jakups Jakobsens.